General Questions
What methods of payment can I use to pay for my wash?
Our washes accept cash, credit, Apple Pay, Google Pay, and washes purchased within our app. Cash payments receive change in cash – no quarters. Credit card transactions can be done by swipe, chip, or tap to pay depending on what methods the card supports.
What can be washed in our automatic bays?
Any vehicle under 7 feet total height and trucks up to extended chassis dually one tons can be washed by our washes. Please remove trailer hitches, bike racks, snow plows, and any other aftermarket accessories extruding from the front, back, or sides of your vehicle. Some tow mirrors may need folded in. Excessive mud and snow can be cleaned off in a self serve bay prior to ensure you receive the best our touchless washes have to offer.
Are washes done by appointment?
No appointment necessary to wash with us! All of our washes are open 24/7 and operate on a first come first serve basis.
Can you clean the inside of my vehicle?
We do not detail or hand clean customer vehicles. We do provide vacuums, window wipes, drying towels, air fresheners, and interior surface protectants as vending at our washes.
Do I stay in my vehicle?
Yes! You must stay in your vehicle for the wash process. Please place your vehicle in park when the red X is illuminated and proceed when the green UP arrow is illuminated.
---
Membership Questions
How can I purchase a monthly Wash Pass?
You can purchase a monthly wash pass using the "Join Our Wash Club" link within the website header, using our Android or iPhone mobile apps, or at any kiosk at our washes!
How do I use my Wash Pass?
Once you have installed and logged into our app using the same phone number provided at the kiosk, you just have to click the Pass located on the home screen or under "My Washes." You can then scan the QR code at the "Scan Code" box on the kiosk or enter the code using "I have a Wash Code" button on the kiosk.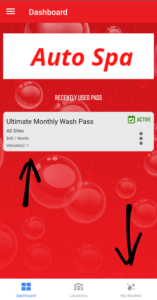 How many vehicles may I wash using my Wash Pass?
Initially, each pass is good for the first vehicle washed. You can add any additional vehicles for just $20 per vehicle per month! If you wish to add vehicles, you can do so within the "Vehicles" tab of your Wash Pass. You will be billed a pro-rated amount based on the remainder of your billing cycle in order to begin washing that vehicle immediately.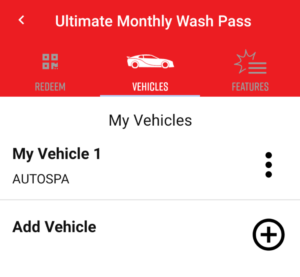 Can I wash at any Auto Spa Location?
Yes! You may wash at any Auto Spa location listed on our locations page. All of our washes are open 24 hours a day.
How many times per month may I wash?
For each vehicle on your wash pass you are credited 30 washes per month. Wash once per day or 30 times in one day, the choice is yours!
When/how am I billed for my Wash Pass?
You will be billed at signup then once per month on the anniversary of your sign up date. The card you use at signup will be the card charged for each month's renewal. You can add or update a card within our mobile app by clicking the options button in the top left corner, "My Profile," then "Payment Methods" at the bottom.
How do I cancel my membership?
You can cancel/suspend your membership at any time within the app or by calling us at 330-355-9500.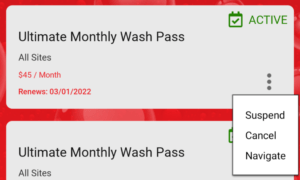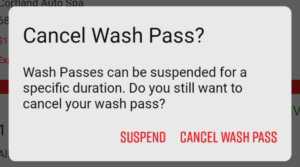 Wash Pass Terms of Service
Monthly wash pass provides a package of washes (and vacuum credits where available) on a monthly basis in each month that the pass is renewed.  The monthly wash pass automatically renews until Customer cancels the service via the app.  Operator reserves the right to cancel, amend, or change the program as it feels necessary. Membership can be cancelled at anytime. No refunds or credits will be given for partial periods. Operator reserves the right to close the wash at times due to adverse weather conditions or due to maintenance with or without notice. The monthly wash pass price is per vehicle washed at our facilities. Customer understands that washing another vehicle with your monthly wash pass bar code will result in that vehicle being added to your monthly wash pass family plan automatically and agrees to the associated increase in monthly charges. By enrolling in the monthly wash pass program, I agree that the credit/debit card provided can be charged automatically via auto renewal. I also agree that I waive any and all right to withhold or delay payment of the related charges, whether as described in my agreement with the card issuer or otherwise. The monthly wash pass cannot be used in conjunction with any other discounts or promotions.  By subscribing to the monthly wash pass service, I hereby grant the car wash operator, and its supplier, Dencar Technology Inc, non-revocable permission to capture my image and likeness in photographs, videotapes, motion pictures, recordings, or any other media (collectively "Images"). I acknowledge that Dencar Technology Inc will own such Images and further grant the Dencar Technology permission to copyright, display, publish, distribute, use, modify, print and reprint such Images in any manner whatsoever related to its business, including without limitation, publications, advertisements, brochures, web site images, or other electronic displays and transmissions thereof. I further waive any right to inspect or approve the use of the Image by Dencar Technology prior to its use. I forever release and hold Dencar Technology harmless from any and all liability arising out of the use of the Images in any manner or media whatsoever, and waive any and all claims and causes of action relating to use of the Images, including without limitation, claims for invasion of privacy rights or publicity.